Research is carried out at all eight faculties, and also at the university institutes: the Klokner Institute, the Masaryk Institute of Advanced Studies, and the Institute of Technical and Experimental Physics.
In future, too, we aim to be a prestigious university where the emphasis will be on high-quality scientific and research work, and on being a significant performer in the European research and education space.
HR Excellence in Research Award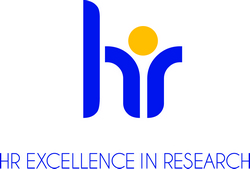 On September 10, 2019, the CTU in Prague received the HR Excellence in Research Award as a result of the University's commitment to adopt the principles of The European Charter for Researchers and Code of Conduct for the Recruitment of Researchers. The implementation phase is ongoing, more information here: https://www.cvut.cz/en/hr-award-hrs4r.
SUPPORT FOR SCIENCE AT CTU
Through the Student Grant Competition, we provide funding for research and development projects carried out by students in PhD and master study programmes. We provide information, advisory and administrative services for team leaders and participants in Czech and international research projects. We help in popularizing scientific findings and in technology transfer through active participation of scientific teams in fairs and seminars.
RESEARCH CENTRES AT CTU
CTU has many centres for basic and applied research where projects on an excellent international level have been carried out, in many cases, over a long period of time.
RECTOR OF CTU'S PRIZE FOR SCIENCE AND RESEARCH
The Fund in Support of Scientific and Research Work is one of the sources used to motivate researchers. Every year, the rector of CTU awards the Rector's
Prize in the following fields:
outstanding scientific results,
practical application of research results,
a prestigious scientific publication,
an outstanding PhD thesis.
Through the CTU Patent Centre, commercial rights are protected for the university and for external persons and bodies. We collaborate with appropriate national and international organizations.
EXAMPLES OF OUTSTANDING RESEARCH RESULTS
The ANASTOMOSIS Interconnected City project
Doc.Ing.ak.arch. Petr Hájek, together with colleagues from Design Institute III at the Faculty of Architecture, prepared the ANASTOMOSIS Interconnected City exhibition, which presents for the general public ways to regenerate and reanimate hitherto unused border areas between urban districts. This is a specific theme that has not previously been investigated in the Czech Republic.
A simulation of quantum dynamics through light
Specialists from the department of physics at the Faculty of Nuclear Sciences and Physical Engineering were part of an international team that designed and carried out an experiment based on the so-called two-dimensional quantum roamer, which enables us to simulate the dynamics of quantum particles and study the impact of their internal properties on thein movement in space. This is a world-fi rst realization of quantum roaming on a plane. The findings were Publisher in the prestigious academic journal Science.
Grant Agency of the Czech Republic prize for Professor Ripka's team
Prof. Ing. Pavel Ripka, CSc. and his team have developer and tested a new type of cordless thin-layer fluxgate sensor. These sensors are used for making precise measurements of the magnetic field, e.g. in space research, for navigation and in warfare. The first stage of the research led to the development of a sensor structure that has been used for detecting mines. The team has also designed and tested a new model of the sensor.
Innovation Prize for 2011
A team led by prof. Ing. Alena Kohoutkova, CSc., from the Faculty of Civil Engineering, won the prestigious Innovation Prize for 2011 for a product known as a pre-stressed fibre-concrete column for an acoustic wall. This product received an award from the Association of Innovative Entrepreneurship of the Czech Republic. The combination of pre-stressing and fibreconcrete in this product is unique on the Czech and European market.
A PRESTIGIOUS SCIENTIFIC PUBLICATION
V roce 2011 vydalo Nakladatelství ČVUT monografii TUNELY na pozemních komunikacích, autorů prof. Ing. P. Přibyla, CSc., a prof. Ing. J. Bartáka, CSc., z Fakult dopravní a stavební. Publikace představuje ucelené dílo, které je základem pro další rozvoj oboru týkajícího se technologického vybavování a provozování silničních tunelů. Pro odborníky i veřejnost je zajímavý jak popis a historie tunelů, tak i část věnovaná chování řidičů v tunelu.
At the international World of Books Prague 2011 fair, a monograph by prof. RNDr. Miroslav Karlík, from the Faculty of Nuclear Sciences and Physical Engineering, under the title Introduction to Transmission Electron Microscopy, was ceremonially christened. This monograph, published by the CTU Publishing House, fills a gap in the specialized literature. The last Czech texts to be published in this field of specialization are more than twenty years old.